So yeah almost everyone who plays pokemon games knows so why not create a topic for others to see aswell?
GamePlay trailer!
Pokémon X and Pokémon Y will present a new generation of Pokémon, including never-before-seen starter Pokémon, amazing Legendary Pokémon, and many more! It comes for the
Nintendo 3DS and 2DS
console!
This game, unlike other older versions comes in
FULL 3D view
, with camera adjustment and fully 3D battles! (Like GTA)
A new type has been added in the whole pokemon world and that is "Fairy" type, it is super effective on "Dragon", "Dark" and "Fighting" and is weak to "Steel" and "Poison".. Marill, Jigglypuff and Gardevoir etc are given these type along with a new Eevee evolution "Sylveon"
Now about the most epic part of the game and that is
MEGA EVOLUTIONS
!!!!!! Yes you heard it right, now most of the epic pokemon can now Mega Evolve in battle! For Mega Evolution, we need to have a certain Mega Stone that helps our pokemon to Mega Evolve during the battle!
This is Mega Charizard X being a Fire / Dragon type! Its Attack stat is increased!
This is Mega Charizard Y, being the same Fire / Flying but with ability Drought and high special attack stat!
Mega Mewtwos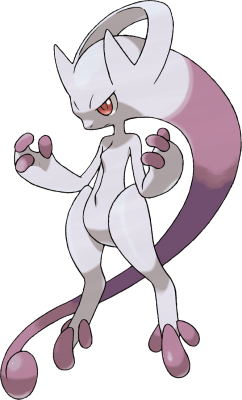 i think that is a good change be the idea still being same

narutouchiha

Chunnin of the Leaf




Health : 23


Country

:


Posts

: 951


Registration date

: 2008-10-01



Finally, a fire/dragon type. Too bad the megavolution is only temporary.

Crimson

Mammon (Avaritia)




Health : 51


Country

:


Posts

: 1951


Registration date

: 2009-04-17



thats fine to me, atleast Charizard managed to be a dragon finally!

It looks pretty interesting for the most part.
_________________
The only thing necessary for the triumph of evil is for good men to do nothing.
~ Edmund Burke
Any man can handle adversity. If you truly want to test a man's character, give him power.
~ Abraham Lincoln
People are like dice. We throw ourselves into the direction of our own choosing.The absence of evidence is not the evidence of absence.

Storm

Admin



Health : 165


Country

:


Posts

: 6596


Registration date

: 2009-03-17



Yep.. Btw the strongest pokemons now are Mega Mewtwos beating arceus down.. Also did anyone saw Pokemon Origins here??
---
Permissions in this forum:
You
cannot
reply to topics in this forum