Page 2 of 2 •

1, 2
I pre-ordered mine because I'm a clingy little Assassins Creed bitch.
Btw the online line pvp was in Psn for a bit idk if its still there
TWO MORE DAYS LEFT!!

K E N T A R U

NTSDII Leader




Health : 184


Country

:


Posts

: 2332


Registration date

: 2008-06-26



This game is good because of the story. In fact, the story is base on real life events.

I just got one question and if you answer now, then im a Dumbass since i wont buy the game.

Do you think there will be an hard mode option?

Sidoain





Health : -1


Posts

: 406


Registration date

: 2009-07-17



When you per order Assassin creed: Brotherhood whats the event there doing doing in game-stop for that

Aoi





Health : 21


Country

:


Posts

: 733


Registration date

: 2009-09-07



when you pre-order the assassins creed at gamestop then you get a special new character thats based off of the jester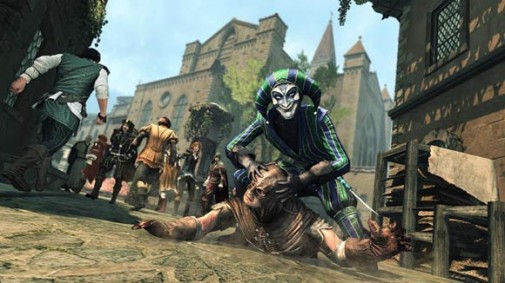 K E N T A R U

NTSDII Leader




Health : 184


Country

:


Posts

: 2332


Registration date

: 2008-06-26



um
cant it be unlocked or is availaible by any other means??

and as Sidoain said
will there be a difficult mode
AC2 was really very easy

k1





Health : -7


Country

:


Posts

: 667


Registration date

: 2010-06-20



One day left!
No there is no adjustment for the AI but because of the new combat system
they made the AI more aggressive and they added a new group called the elite
or something like that that are allot harder to kill. they also added more enemies


K E N T A R U

NTSDII Leader




Health : 184


Country

:


Posts

: 2332


Registration date

: 2008-06-26



Page 2 of 2 •

1, 2

Similar topics
---
Permissions in this forum:
You
cannot
reply to topics in this forum